Impound Insurance
Specialist temporary cover to get your vehicle released from impound
Call For A Quote
If your vehicle has been seized for not being insured then you will need to secure impound insurance immediately. At Acorn Insurance, we have 40 years of experience in the insurance industry. We provide 30 day temporary cover policies for just such an emergency. Following purchase, you can prove that you have the minimum level of cover required to get your vehicle released and back on the road.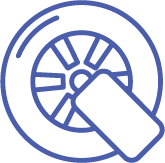 Insurance For Impounded Cars
Finding the right impound insurance can be a challenge because this is a non-standard policy and time is of the essence. We are committed to providing the support necessary to release your vehicle from police custody. However, there are some key considerations to be aware of before purchasing our impound insurance.
Firstly, the level of cover we offer is third party only. This means we cover you for any damage caused to someone else's vehicle in the event of an accident that is your fault. Secondly, third party personal injury claims as well as third party property damage e.g., homes and bridges. These are covered up to the value of £20 million. Finally, we will provide you with the necessary documentation via email as your proof of purchase is needed to release your vehicle.
What Happens To Cars Seized By Police?
The police have the power to seize, and in some cases, destroy any vehicle that is found to be uninsured. It is illegal in the UK to drive a vehicle on a road or park in a public place without at least third-party insurance. Also, even vehicles incorrectly insured could get penalised.
Penalties for uninsured drivers include a fixed penalty of £300 and 6 penalty points on your licence. Furthermore, if the case goes to court you could get an unlimited fine and get disqualified from driving.
Once seized, police will take your vehicle to an impound, usually located at the nearest police station. A seizure notice will detail exactly when and where your vehicle has been taken.
Following police impound, you will have 7 days to produce the necessary impound policy documentation. This will then allow your vehicle to be released, and a further 7 days to recover it. If your vehicle remains unclaimed after 14 days, the police have the power to have the vehicle destroyed or sold at auction.
How To Get An Impound Insurance Quote
As specialist insurance providers, we offer impound insurance for those wanting to release their vehicle from an impound efficiently and hassle-free. We help drivers that might be classed as a 'higher risk' find the cover they need. To request a quote call 01704 339 925, and get your vehicle released and back on the road as soon as possible!
The Benefits Of Insuring With Acorn
Since 1982, we have been providers of non-standard insurance. As such, we can offer a high level of customer support for policies that can be tailored to your unique insurance needs. Our dedicated UK-based team of experienced insurance agents are on hand to help you secure the impound insurance policy you need.
By insuring with Acorn, you can access the following benefits:
A UK-based call centre
A dedicated impound insurance team
Medical expenses for your passengers up to £100 each (Terms and conditions apply)
24-hour claims team